Porphyridium cruentum: 5 amazing properties of this remarkable microalgae attractive for the cosmetic
April 29, 2021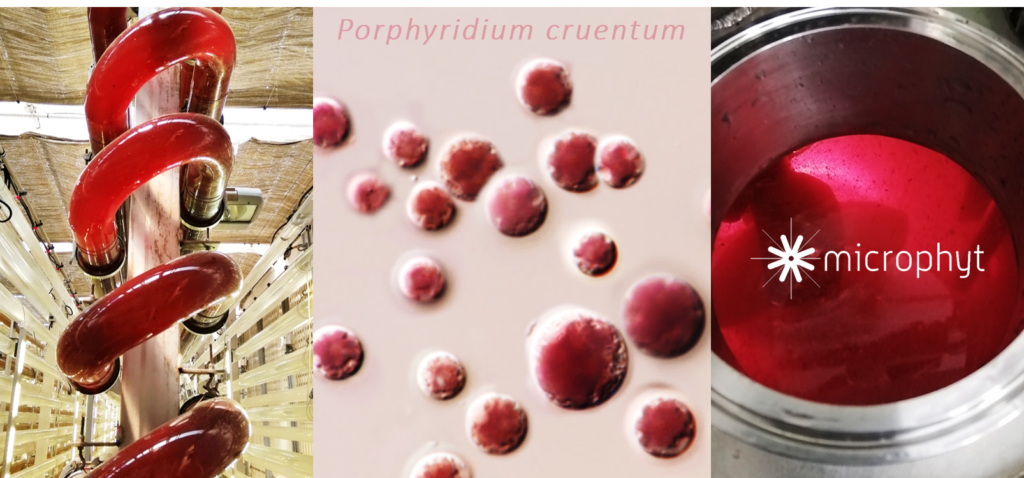 We take a closer look at the incredible potential of Porphyridium cruentum, a microalgae rich in bioactive compounds very useful for the skin.
Porphyridium cruentum is a resilient and highly adaptable red microalgae with a wide array of benefits. It contains multiple molecules of interest that can be used to develop ingredients that offer real results for the skin. Already well known by cosmetics experts for its moisturizing and anti-inflammatory powers,1 Porphyridium cruentum has also been proven to have excellent protective and anti-aging properties. With Renouvellance, Microphyt has harnessed the potential of Porphyridium cruentum to boost and protect the skin. Read on to learn more about this microalgae that deserves to be better known.
1. IMPRESSIVE ADAPTIVE CAPABILITIES
Porphyridium cruentum is an ancient microalgae that first appeared more than 625 million years ago and has survived over time by adapting to its environment. This extraordinary microalgae is capable of withstanding extreme environmental conditions such as excessive exposure to sunlight, drastic temperature fluctuations and intense hydric and osmotic stress.
2. ABILITY TO DEFY ENVIRONMENTAL STRESSES
It may be microscopic in size, but this highly adaptable microalgae has developed a formidable system of defense composed of powerful multifunctional molecules that act on every level. Porphyridium cruentum synthesizes compounds capable of providing it with effective protection against environmental stresses, from exopolysaccharides at the cell wall to carotenoids and phycobiliproteins within the cell.2
3. A PROTECTIVE COCOON
Exopolysaccharides are secreted marine polymers composed of xylose, glucose, galactose and glucuronic acid that surround the microalgae with a protective coating. Their main roles are to protect cells from dehydration and maintain cell rigidity so that the microalgae can develop in a wide range of environments including marine, airborne and freshwater habitats. Since exopolysaccharides also serve as chelating agents for heavy metals, they also have anti-pollution properties.
4. A POWERFUL ANTIOXIDANT
Phycobiliproteins are photosynthetic pigments that are responsible for the unique color of Porphyridium cruentum. They capture light energy, which they then transfer to the photosynthetic reaction center. They are powerful antioxidant chromophores. The main biliproteins found in Porphyridium cruentum microalgae are allophycocyanin (5%), R-phycocyanin (11%), B-phycoerythrin (42%) and B-phycoerythrin (42%).3
5. GENERATES FATTY ACIDS, CAROTENOIDS, MINERALS AND VITAMINS
Porphyridium cruentum also contains lipids, especially polyunsaturated fatty acids such as eicosapentaenoic acid (EPA) and arachidonic, palmitic and linoleic acid. It is also known to synthesize carotenoids including zeaxanthin, and contains various essential microelements such as calcium, potassium, sodium, magnesium, tocopherol (vitamin E) and vitamin K2.
A REMARKABLE MICROALGAE
Porphyridium cruentum belongs to the family Porphyridiaceae and the division Rhodophyta. It is a single-cell microalgae in the form of tiny red/pink pearls which are invisible to the naked eye. It grows naturally in various locations, for example in the seawater around the Brittany coastline in France or in the Coral Sea off Australia. More surprisingly, it has also been identified in extreme terrestrial environments such as the Negev Desert in Israel.
RENOUVELLANCE – CONCENTRATING THE POTENTIAL OF PORPHYRIDIUM CRUENTUM
Microphyt grows this microalgae on a large scale using its exclusive patented hydro-biomimetic technology. CAMARGUE photobioreactors reproduce the natural conditions for the development and growth of Porphyridium cruentum in a closed environment in which each parameter – temperature, light, movement, etc. – is carefully monitored, enabling the controlled, standardized production of molecules of interest. Microphyt also extracts this concentration of bioactive molecules at its production platform using green solvents. Renouvellance is rich in phycoerythrin and exopolysaccharides. It enhances and optimizes the skin's natural defenses, protecting it from the harmful combined effects of UV rays and pollution.