Discover GamePhyt™, the first 100% natural bioactive complex from Microphyt, specifically designed for gamers
September 23, 2022
The results of the clinical trial for new ingredient GamePhyt™ are out: they are outstanding and extremely promising! Microphyt will unveil the full study at the international SupplySide West show in November 2022 in Las Vegas.

Devoted gamers and all those looking to improve their powers of concentration have something to get excited about! The results of the clinical trials for the new ingredient GamePhyt™ are out, and they are outstanding and extremely promising. Microphyt will unveil the full study at the international SupplySide West show in November 2022 in Las Vegas. In the meantime, here's a sneak preview of the first findings.
With the development of GamePhyt™, a new ingredient that meets very specific consumer needs, Microphyt is continuing its rise to global leadership in the production of natural active ingredients derived from microalgae.
GamePhyt™ is a unique patented combination, the culmination of three years of research.
Improved reaction time and concentration – naturally and with no side effects
GamePhyt™ harnesses the synergies between the outstanding qualities of fucoxanthin-rich microalgae and the benefits of guarana, which contains guaranine. The extract of Phaeodactylum tricornutum microalgae acts to improve cognitive functions such as memory and ease of learning and also reduces stress, while the active substances in guarana boost energy, maintain endurance and improve mental sharpness. To see what happens when these performances are combined, Microphyt asked the Department of Kinesiology and Sport Management (KNSM) at the prestigious Texas A&M University (TAMU) to carry out a clinical trial in accordance with best practices (randomized, double-blind and placebo-controlled). More than 60 experienced gamers tested GamePhyt™ for 30 days. The first results are particularly impressive in terms of cognitive performance: GamePhyt™ significantly improves focus and memory, reaction time and decision-making, and reduces mental fatigue. The effects were clear after a single dose and just 15 minutes! GamePhyt™ also enhanced sleep quality and visual comfort – and all these benefits come without side effects.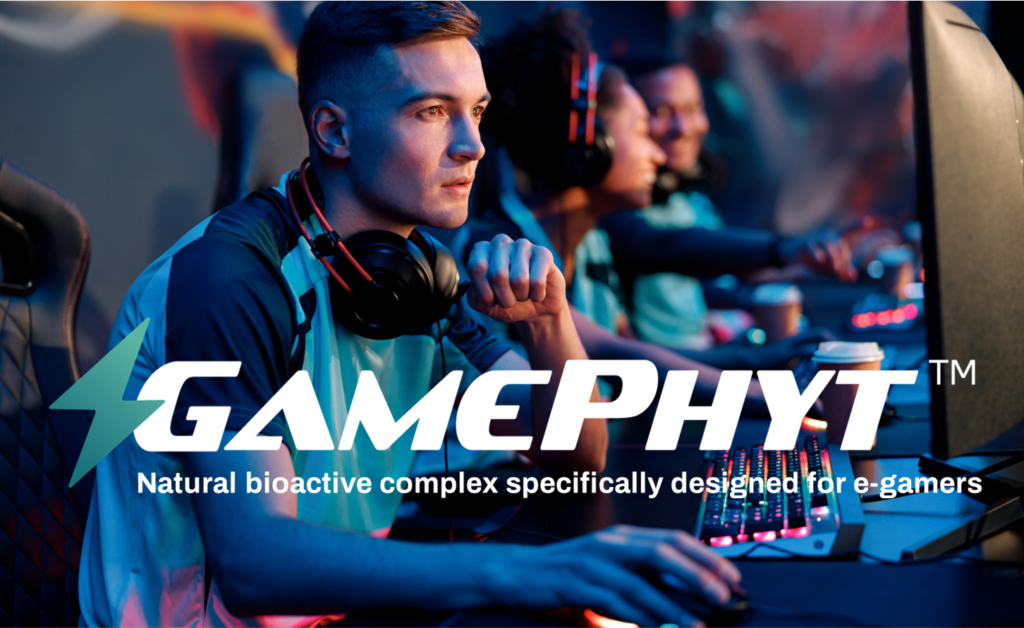 Results unveiled at SupplySide West 2022
GamePhyt™ is the first completely natural ingredient developed for gamers – and it also offers great potential advantages for anyone engaging in sustained mental and/or physical activity such as students, young people with demanding jobs and athletes.
Manufacturers of food supplements and sports nutrition brands take note: GamePhyt™ will initially be marketed in the United States. The Microphyt teams will be in the U.S. at the SupplySide West show to exclusively unveil the full details of the clinical trial. To see the presentation of the GamePhyt™ clinical trial results, come along to the Supplier Presentation Theater, booth 3077, on November 3 at 11am. Discussions will continue at the Microphyt booth (number 5074), where GamePhyt™ samples will be available, together with samples of Microphyt's other ingredient for the prevention of cognitive decline, BrainPhyt™. Europe will have to wait a few more months before it can benefit from these great ingredients, which will be available in powder form, ready to incorporate into capsules, gummies or snacking products.

A microalgae extract produced in France and based on an exclusive technology
Microphyt, a pioneer in microalgae-based natural solutions for nutrition and well-being, has designed and developed a patented state-of-the-art technology: CAMARGUE photobioreactors. Using this innovative technique, Microphyt can grow Phaeodactylum tricornutum microalgae in a closed environment, in a controlled, sustainable and environmentally-friendly way. The subsequent extraction process isolates the useful molecules (both individual molecules and molecules acting in synergy) for their health benefits. This is how the microalgae extract used in GamePhyt™ is produced, before being combined with guarana.