Microphyt to Showcase Microalgae-based Ingredients at SupplySide West in Las Vegas Oct. 25-26
October 16, 2023
Visitors may sample gummies containing patented microalgae-extracts supporting cognition, metabolic wellness and healthy lifestyles.
MICROPHYT TO SHOWCASE ITS UNIQUE SOLUTIONS AT SUPPLYSIDE WEST
Microphyt will showcase its innovative microalgae-based cognitive health, metabolic wellness and active lifestyle solutions at booth #4442 during SupplySide West, an international gathering of health and nutrition industry experts taking place from October 23-27 at Mandalay Bay, Las Vegas.
The company's patented technology enables the cultivation of any kind of microalgae, even delicate strains previously deemed unviable. Its research is focused on identifying specific bioactives – secondary metabolites naturally produced by adaptive microalgae – that target promising pathways vital for improving human health. Microphyt's dietary supplement ingredients are produced in environmentally controlled eco-friendly photobioreactors free of GMO, pollutants or pesticides.
"Our goal is to unlock the potential of microalgae for improving human health," said Vincent Usache, Microphyt Chief Executive Officer. "We are delighted to present our innovative products, which offer sustainable solutions for healthy aging, cognition and metabolic wellness."
SupplySide West visitors can sample tablets, softgels, capsules and gummies of Microphyt ingredients derived from Phaeodactylum tricornutum. This marine microalga is rich in natural antioxidants, including fucoxanthin, Omega 3 fatty acids (EPA & DHA), essential amino acids, and vitamins and minerals.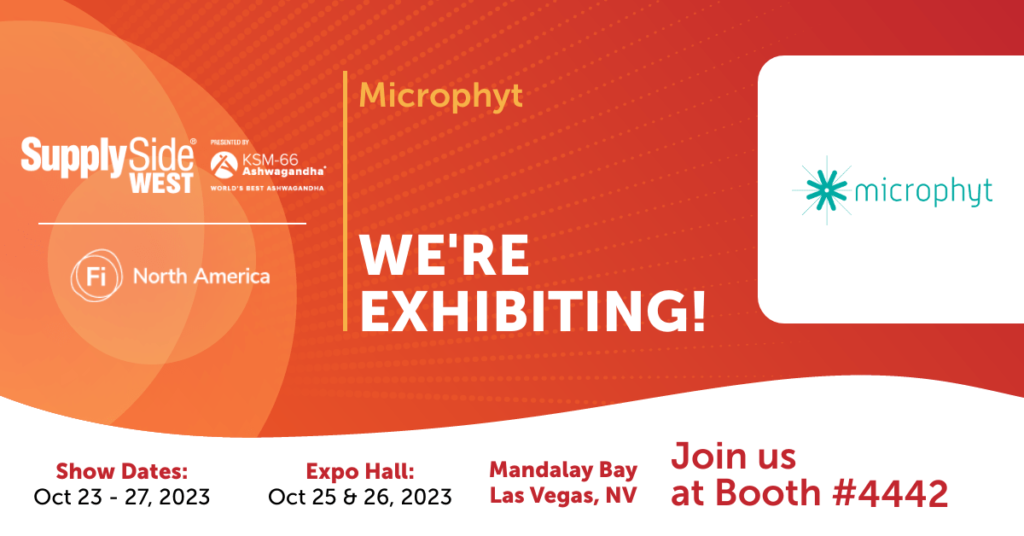 THREE INNOVATIVE INGREDIENTS WITH CLINICALLY PROVEN EFFICACY
1/ NEW: PhaeOptim™ naturally supports metabolic wellness and active and healthy lifestyles vital to healthy weight management. A randomized 12-week clinical study of 37 overweight women included a supervised exercise training and a diet intervention plan. Subjects also taking 220mg/day of PhaeOptim had significant improvements in exercise capacity and cardiovascular health.  PhaeOptim also helps healthy bones endure the stress of exercise.
2/ GamePhyt™ is a natural bioactive complex clinically proven to improve the cognitive performance of gamers.  GamePhyt is a combination of the extract of Phaeodactylum tricornutum and guarana extract that improves memory, mental sharpness, energy and endurance. A clinical study of 61 experienced gamers published in Nutrients this year showed improved cognitive performance after single dose and increased gaming performance after 30 days of supplementation. Benefits included improved reaction time, accuracy, processing speed, focus, decision-making, mental energy. GamePhyt also supported mood, sleep quality and visual comfort.
3/ BrainPhyt™ is designed for healthy aging and maintenance of cognitive function. BrainPhyt improves short and long term and spatial memory and reduces oxidative stress and the inflammatory biomarker IL-6 in the brain. A six-month randomized placebo-controlled clinical study with 66 healthy elderly subjects demonstrated BrainPhyt improved long-term memory, increased attention and vigilance, and reduced stress and C-reactive protein concentration in the blood. Numerous preclinical studies demonstrate BrainPhyt's superior ability to improve and maintain brain function compared with DHA alone and Ginkgo biloba extract.
To make an appointment, write to us at contact@microphyt.eu or fill in the contact form here.