Microphyt experts: Mélanie Lefèvre, cosmetic formulation specialist
July 6, 2022
Microphyt can count on the expertise of cosmetic formulation specialist Mélanie. We take a closer look at her invaluable skills and why they are so appreciated by clients.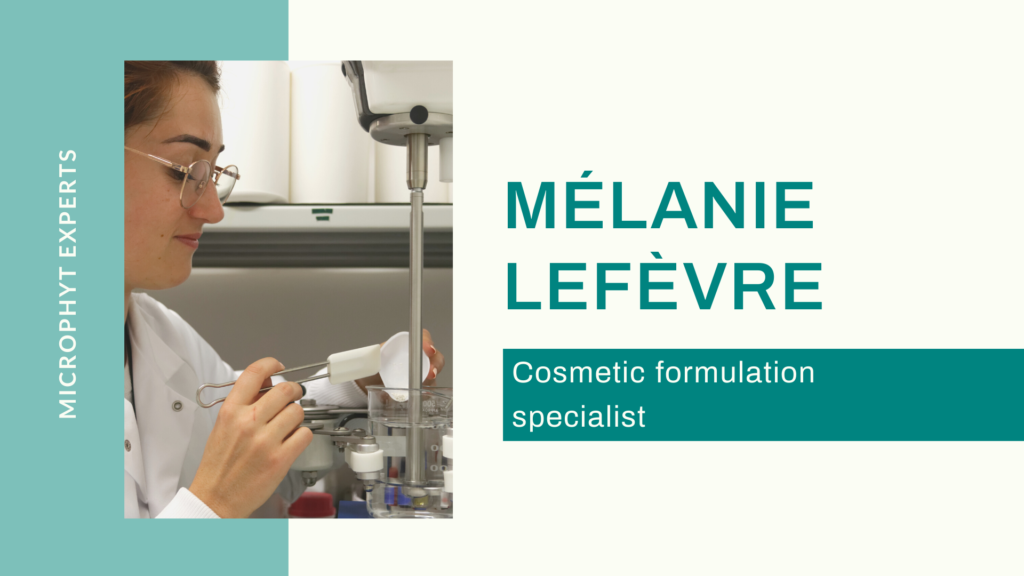 Mélanie has cosmetic formulation in her blood. A qualified chemist with a Master's in cosmetic formulation and development from the prestigious ISIPCA school,[1] she pursued a career at L'Oréal, L'Occitane and Pierre Fabre before joining Microphyt, keen to harness the potential of microalgae.
Could you describe your work in cosmetic formulation?
I would say that I am looking for the ideal context that will best bring out the remarkable properties of the cosmetic ingredient derived from microalgae. To do this, I create a map of the ingredient, including its texture, color and olfactory signature, and also where it was sourced and what it does. Then I imagine and create a variety of different formulations. During this investigative process, I also test various raw materials, formulations and packaging that will work best with the product. The aim is to propose a suite of formulas that maximize the potential of the microalgae extract that we are marketing.
In practice, what are the stages in the process?
I start with the ingredient, a microalgae extract identified and developed by the Research & Development team for its cosmetic benefits. I test it in the lab to see how it reacts when it comes into contact with other natural substances in various types of formula. After 3 to 4 months of analysis and 6 months in total to confirm the stability of the formulas developed, I draw up a formulation guide for the client. It contains a description of all the characteristics of the extract, formulation guidance especially in terms of pH, temperature and compatibility with other ingredients, and all the formulas that I have developed.
How are ingredients derived from microalgae different from the other active ingredients that you have studied?
Microalgae are natural micro-factories that are novel and powerful. They are remarkable both for their intrinsic qualities, many of which are not well known – their antioxidant, regenerative, moisturizing properties –, and for their wonderful palette of colors.
Why does Microphyt, a specialist in microalgae-based ingredients, offer expertise in formulation?
With in-house experts, Microphyt has full knowledge of the reaction of active ingredients within a formula. And that's really helpful for our clients – we provide them with a bespoke product by offering several natural formulas that contain our ingredient. The formulation guide helps speed up and optimize the development phase, and we know how important that is in a hypercompetitive market.
You previously worked in major corporations. Why did you join Microphyt?
I had always previously worked for companies that offer end products. Being involved in the ingredient side means focusing on the upstream stages and playing an active role right from project kickoff. I was also attracted by the size of Microphyt and the dynamic nature of the company. I find it really exciting to be contributing to its growth. There is a great atmosphere and everything points towards the company becoming a real global leader in its field.
What are the main qualities you need to be a formulation specialist for Microphyt?
Creativity, which is vital to develop new applications.
Rigor to analyze the reaction of the active ingredient and identify its product environment.
Good communication skills to work together with the R&D, marketing, regulation and quality departments.
And finally, what is the favorite microalga of Mélanie Lefèvre, Microphyt formulation specialist?
The microalga Porphyridium cruentum for its natural pink color and its protective properties that combat the combined effects of pollution and UV rays on the skin.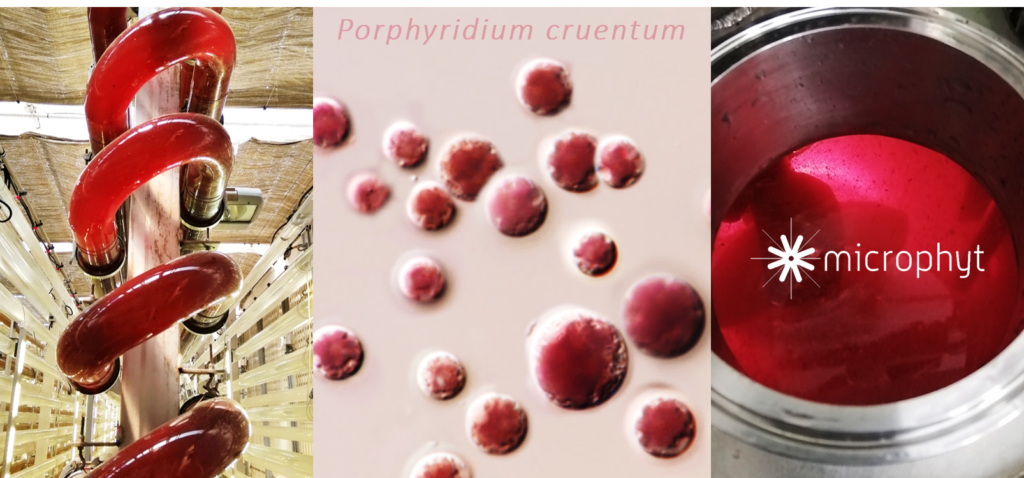 ---
[1] A French higher education institution in the field of perfume, cosmetics and food flavoring.