Microphyt experts: Antoine Delbrut, Head of the Extraction Unit
December 15, 2022
Antoine Delbrut is one of the world's few specialists in microalgae production and extraction. And what's more, he has the know-how to transform biomass into quality ingredients. Antoine started as an intern but soon rose up through the ranks at Microphyt – reflecting the company's own meteoric rise. We find out more about his unique expertise.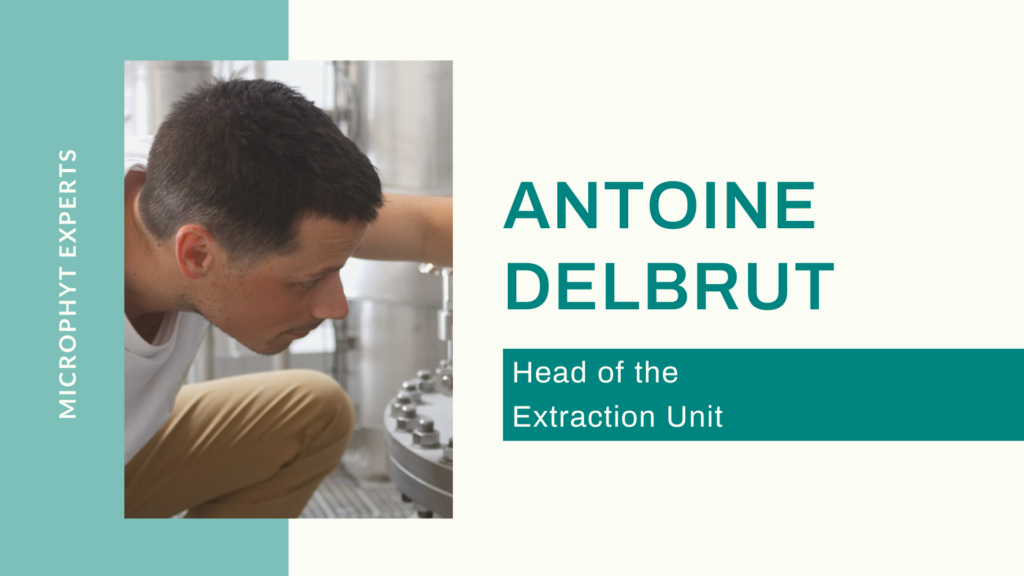 Less than ten years ago, you joined Microphyt when you finished your studies. You're now coordinating the production of a dozen different ingredients. What an amazing journey!
My career development has been based on trust and knowledge sharing – a win-win approach. Microphyt gave me the freedom to experiment and to be in close contact with clients, without any barriers. It seemed logical to me to continue my PhD and my research with the company. The aim was to explore new culture techniques and extraction processes with a pool of microalgae that are rich in fucoxanthin and polyunsaturated fatty acids. It was in some ways a prelude to the research that led to Brainphyt, a unique ingredient aimed at maintaining cognitive function.
You were able to develop your own career in step with Microphyt's rapid growth.
We grew together, relatively quickly. In 2014, Microphyt was a very small business with huge potential. Today it is recognized worldwide as a leader in converting microalgal biomass into high value-added ingredients. We have grown from eight employees to around fifty. The five photobioreactors that were there when I arrived will soon be replaced by the world's first microalgae biorefinery. The size and production capacity of the extraction plant will increase tenfold to reach an annual production level of dozens of tons of cosmetic and nutraceutical ingredients.
Extraction is a very strategic stage. How do you guarantee production quality?
One challenge is to adapt new processes to industrial scale while still complying with quality and hygiene standards, which we are very strict about. We need to have detailed operating procedures to guarantee repeatable, quality production so that we can deliver ingredients to our clients in good time. We are juggling with around a dozen "routine" production processes and three to five new processes that are developed each year. One of Microphyt's trademarks is that it is constantly innovating.
What qualities do you need for your job?
Firstly flexibility, to be able to integrate real-world requirements and pressures into production schedules. We are constantly adapting. Another essential quality is versatility, to deal with extremely varied tasks. My job requires knowledge in industrial equipment, biochemistry, logistics, and calculating manufacturing cost prices. And of course I need to be attentive both to the teams, because we are in constant dialog and interaction, and to the machines and production data, to improve processes and anticipate problems.
Education and training of Antoine Delbrut, Head of the Microphyt Extraction Unit
PhD with a dissertation entitled "Study of the coupled production and extraction of carotenoids and polyunsaturated fatty acids from microalgae"
Master's in plant biology and biotechnology
Vocational Bachelor's (licence professionnelle) on genetic improvements in plants
Technical diploma (DUT) in biological engineering
The favorite microalga of Antoine Delbrut, Head of the Microphyt Extraction Unit
Phaeodactylum tricornutum: it's an entire microfactory within a single microalga for the benefit of our health! This unique marine diatom adapts to different culture conditions, grows rapidly and can transform into three distinct forms.