Join us this fall ! 🍂
September 2, 2022
During the fall 2022, Microphyt will be present at several industry events. We hope to take this opportunity to meet you and share with you about our unique ingredients extracted from microalgae. Come and join us to these various events:
September 16th: Cosmetic Webinar – Back to school starts strong for cosmetic team which organize its 2nd webinar. This online event is dedicated to present microalgae and neurocosmetics, the new allies of sensitive skin. For this occasion, Karl Lintner, cosmetic consultant with a neurocosmetic expertise and Elodie Gras Lavigne form Neuron Experts, our CRO which realized our in-vitro studies for Luteana™. Neuron Expert is specialized in study of neuro-active compound.
We have chosen to organize 2 meetings: one in French at 2p.m. and one in English at 5p.m. (CEST)
Location: on line, with our webinar platform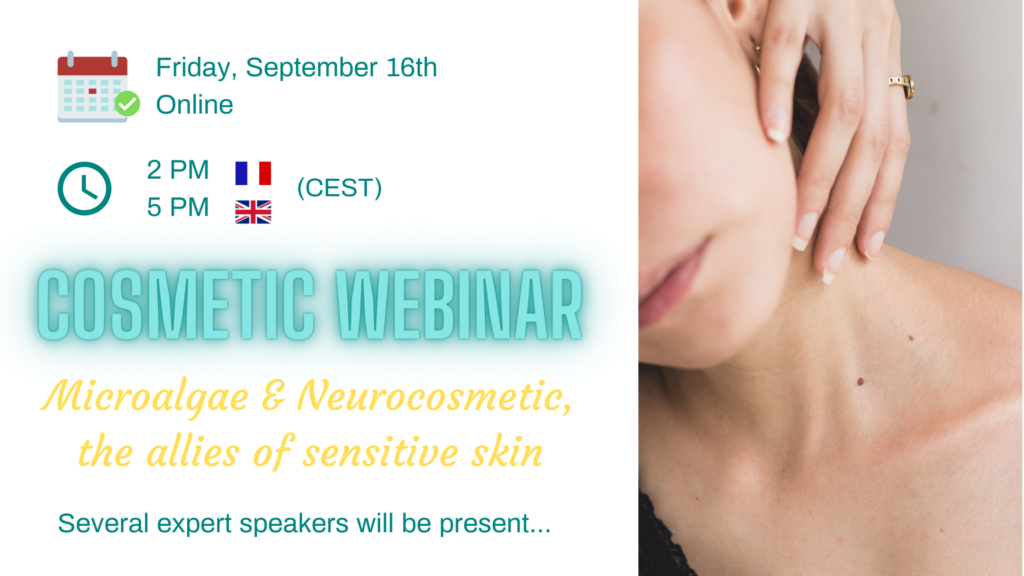 September 20th: Microalgae Webinar – Nutraceutical teams takes over by hosting and sponsoring the webinar "Fucoxanthin and Phaeodacylum tricornutum" organized by EABA (European Algae Biomass Association). The occasion for Microphyt to tell its story through the microalgae Phaeodactylum tricornutum.
Time: 2p.m. (CEST)
Location: on line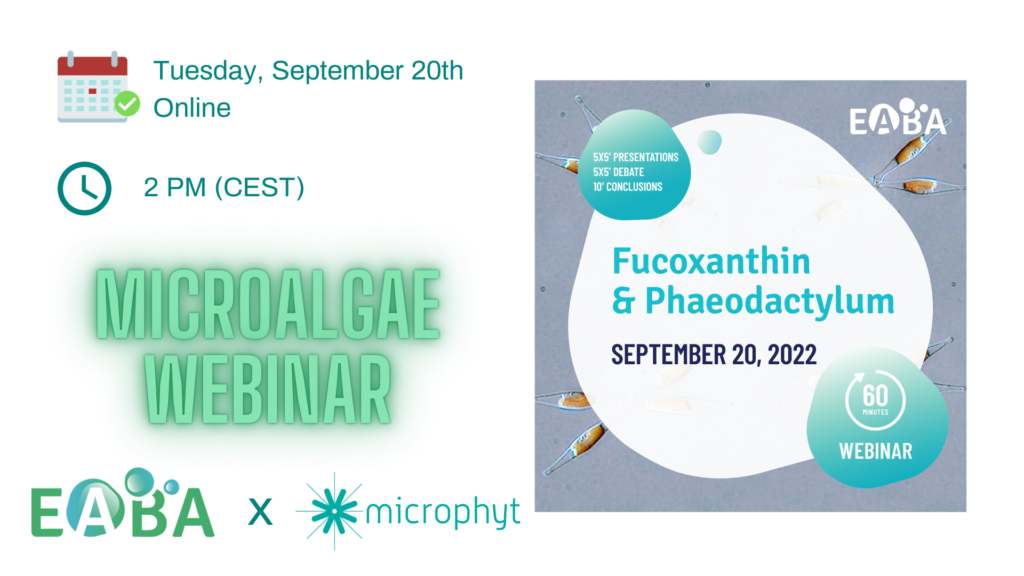 October 5-7th: Sport & Active Nutrition Summit – Christel Lemaire will be present to stay informed of sports nutrition and also to speak with you of microalgae benefits for sportsmen.
Location: Netherland, Amsterdam, Marriott Hotel
Book a meeting: contact@microphyt.eu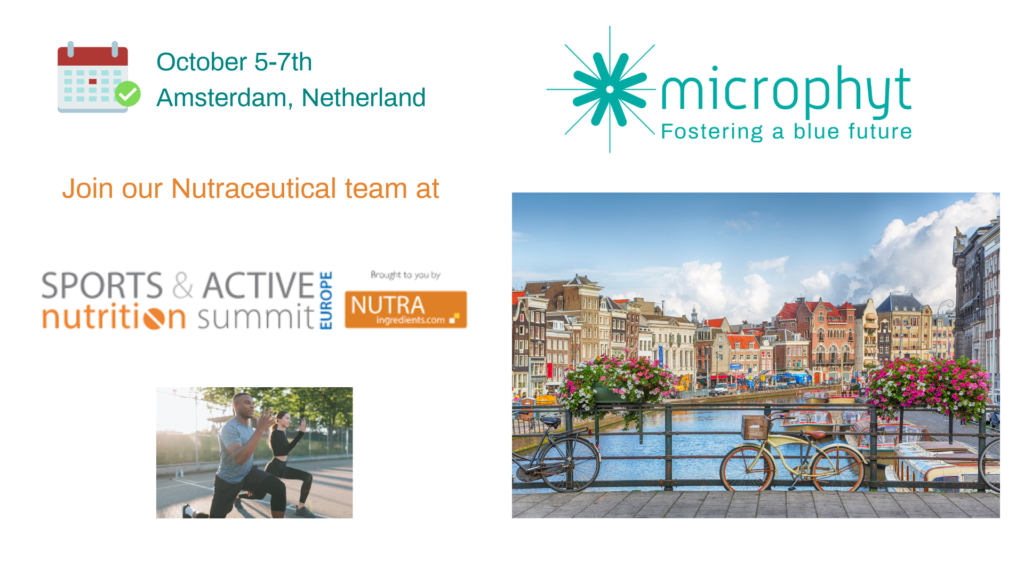 October 15-19th: SIAL – In order to democratize the use of microalgae in the food, Microphyt will be exhibitor at the International Food Trade Show on Business France booth, start-up space. It is for us the occasion to expose our research works in partnership with Paul Bocuse institute research and innovation center as part of the SCALE project.
Location: France, Villepinte, Parc des Expositions de Paris-Nord Villepinte
Book a meeting: contact@microphyt.eu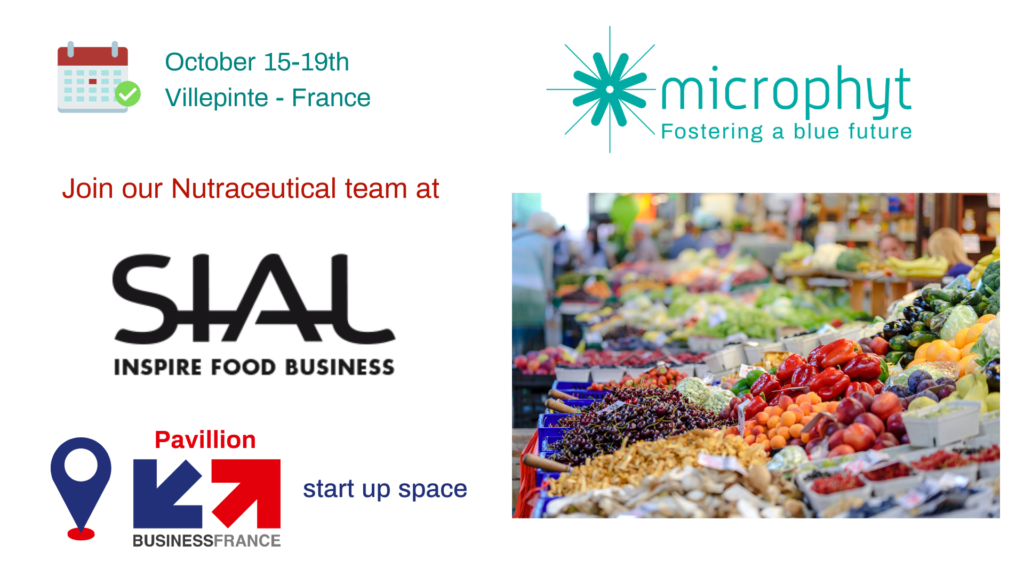 October 31th – November 3rd : Supply Side West – Microphyt nutraceutical team will be exhibitor at international tradeshow dedicated to nutrition and food supplement. Book in advance your meeting with our team and visit our booth 5074. Vincent Usache, CEO, Ilya Zhivkovich, Chief business officer, Christel Lemaire, Marketing nutraceutical manager and Jonathan Maury Clinical studies manager will be there to exchange and introduce you our new ingredient. Come to theatre supplier booth 3077 on November 3rd, for listen Christel with her presentation « Power-up esports performances with GamePhyt™, a novel natural bioactives complex by Microphyt ».
Location: United-States, Las Vegas, Mandaly Bay Convention Center
Book a meeting: contact@microphyt.eu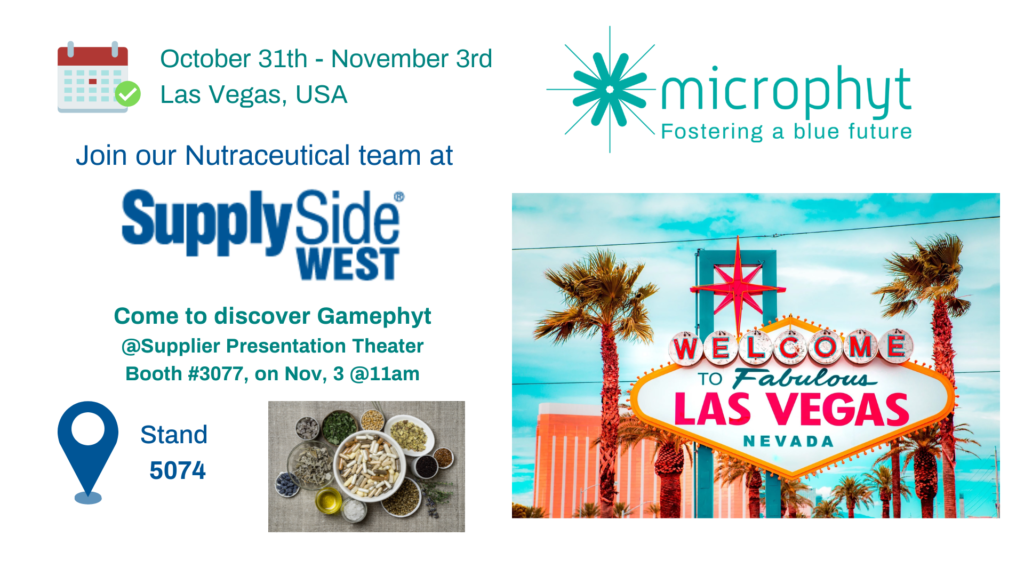 November, 1st – 3rd : In Cosmetics Asia – Microphyt cosmetic team will be exhibitor at the international cosmetic ingredient tradeshow and will present its brand new bioactive ingredient for cosmetic industry. Nora Vandamme, business developer USA and Cyrielle Houdin, marketing cosmetic ingredient manager, will be present and delighted to exchange with you and your cosmetic project.
Location: Thailand, Bangkok, Bangkok International Trade & Exhibition Centre
Book a meeting: contact@microphyt.eu
LOOKING FORWARD TO SEE YOU AGAIN!
In the meantime, if you have any questions or if you would like more information, do not hesitate to contact us by email at contact@microphyt.eu or by clicking here.